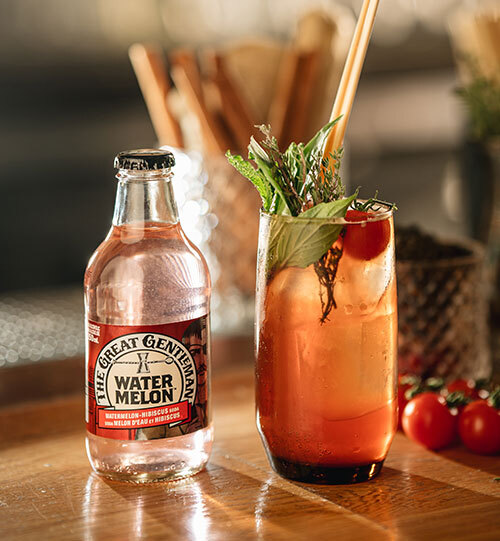 INGREDIENTS
1 oz sweet vermouth
1 oz Chinese 5 spices infused Campari
1 oz acid adjusted tomato water
Cherry tomato
Variety of fresh herbs
INGREDIENTS FOR THE INFUSED CAMPARI:
500 ml Campari
10 gr Chinese 5 spices infused Campari
INGREDIENTS FOR THE ACID ADJUSTED TOMATO WATER:
300 gr cherry tomatoes
100 ml water
2 gr for each 100 ml of liquid malic acide OR 3 gr for each 100 ml of citric acid
RECIPE
Pour all liquid ingredients except The Great Gentleman Watermelon & Hibiscus Soda directly into the glass. Stir all ingredients using a bar spoon. Fill 3/4 of the glass with ice and stir once more. Top with the soda, then fill with ice and garnish with a variety of fresh herbs and a cherry tomato.
CHINESE 5 SPICES INFUSED CAMPARI
In a glass jar, pour 500 ml of Campari with 10 gr of the Chinese 5 spices. Close the jar and shake well. Infuse for 2 hours then strain into another container. Refilter the mixture using a funnel with a coffee filter placed into it to make sure there are no more residues or particles. Bottle and store in the fridge.
ACID ADJUSTED TOMATO WATER
In a blender on high speed, blend 300 gr of cherry tomatoes with 100 gr of water. Filter using a strainer then filter through a coffee filter. Once you collect the tomato water, add 2 gr of malic acid or 3 gr of citric acid per 100 ml of liquid. Bottle and store in the fridge for no more than a week.

A cocktail by Tao Zrafi
YOU MIGHT ALSO FIND THESE IRRESISTIBLE
Learn from a master mixologist

TAO ZRAFI Learn More